Project Article - Back Flash for ELEVENSES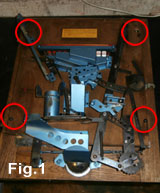 The Bryans Elevenses is one of the most popular (and common) Allwin machines but as many owners have found the plastic back flash on the playfield often splits, warps, shrinks or fades. In the download section you will find a file that you can download free that contains the correct size, colour and high resolution back flash, ideal as a replacement. Remember that everyone has their own opinion as to which way the stripes went, if you want to choose your own, then download the file and use any suitable program to flip the image horizontal. [Download File]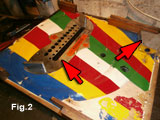 Replacing the back flash on any Allwin machine can be a pain! Although the actual replacement is easy to fit, you need to remove so much to get to the back panel. The Elevenses you need to undo 4 screws in each corner on the rear of the door (Fig.1), this will allow the whole play area to be removed from the cabinet. Once removed the other components attached to the front of the play field need to be removed (Fig.2), these are held by small screws.

Removing the circular track is fiddly as it's held by cotter pins (split pins) (Fig.3), prise these carefully so you can reuse them. Once everything is removed you can peel off or scrape the old back flash off (Fig.4). These were never glued at the Bryans factory so should come away easily. Once removed you may rub the surface with fine sand paper (Fig.5).
Make a replacement back flash. Although you can purchase ready made ones these can be expensive often around the £30 price. This one we show you how to make yourself will cost about £10. Download the file on to a memory stick (USB or Memory card), take this to any High Street print/copy shop (Staples in the UK are very good), they can print on to special thick glossy film type paper from the memory stick. The size will be A3. Once printed they can laminate the sheet, although I find laminated sheets are TOO glossy and cause a lot of reflection during game play.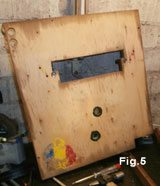 I would prefer to leave it as it is (if you've chosen a good quality gloss film to print on), or spray will a couple of coats of lacqor, or buy a roll of stick backed clear contact sheet (if I've not described that last one too well, it's like a sheet of sellotape!).
Once you have the replacement lay it on the back panel, hold in position as you rub your thumb over the areas where the holes are, this makes small indents then remove and use a sharp knife or razor blade to cut out the holes. Replace on back panel and with a ballpoint pen push hard over where the holes are for the circular track split pins to be pushed through.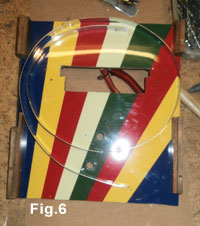 Next lay the track back on the panel, push split pins through holes made earlier, re-attach the front components, screw the back panel on to the Eveneses door frame and you are complete (Fig.6).
The job will take approx 2 - 3 hours, although can be fiddly at times it's a job worth doing. If you don't feel confident doing it for yourself then Slot Machine Depot can undertake the job for you at just £65 which includes labour and the replacement back flash part.

Summary of our website and service:
One Arm Bandits, Slot Machines, Vending Machines, Mechanical Slots, Restoration of Mills, Jennings, Caille, Sega, Watling, Pace, Buckley, Ballys, Bryans and Allwins.
We buy, sell, repair and service the following brands: Golden Nugget, Buckley Bones, Jennings Standard Chief Bell, Jennings Buckaroo, Mills Diamond BellCherry Front, Watling Rol-A-Top, Rol-A-Top Bird of Paradise, Checkerboard, Mills Silent Golden Bell, Mills Bonus Bell, Horse Head, Mills Liberty Bell, Jennings Little Duke, Mills Bursting Cherry, Mills Hi Top, Mills Futurity, Mills Black Cherry and most other machines from the years of 1910 through to 1980. Pace Kitty, Pace Comet, Vintage slot machines, One arm bandits, 1 armed bandit, mechanical slots. Vegas slots, Slot history, Allwins.