My First Machine - An Amusing tale of being a collector
"Watching an attendant open up a slot machine", hearing these words recently from a slot collector on youtube suddenly hit a note with me. Let me elaborate, as a young kid growing up in the sixties and seventies visiting the seaside or a holiday camp meant one thing to me, slot machines. However, it wasn't for the enjoyment of playing slots, no it was the fascination of how they work. That opening line of this article rang true to me, because one of the joys of wandering around the amusement arcades as a kid was when someone complained a machine had not accepted a coin or didn't pay out a win, the attendant was called over, I would follow the attendant to the offending machine (I sometimes felt like a stalker), and watched as he thumbed through what appeared to be a key chain with hundreds of keys dangling, as a kid I always wanted to have a key chain like that.
I would push my way through the gathering of people to get to the front, anyone would assume it was a current day pop group I was trying to grab a glimpse of, but no just the inside of the slot machine! As the machine door was opened I'd know I only had a few minutes if not seconds to view the mechanics inside and see all these springs, levers and wires. And that's a misspent youth now about the first machine of my collection.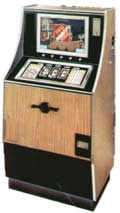 Actually I've never had a collection of slots, not in the true sense of the word, for a couple of reasons. First, I could never afford to own lots of machines at any one time and secondly, we never had enough room in our two up two down terraced house. Even today, I'll buy a machine, play it, admire it, clean it and figure out the workings then sell it and buy another. So what was the first machine I had? Well, I like to say it was a rare mechanical one arm bandit, but it was not as vintage as that, it was a Fruit Machine, yes I know some will frown upon those words as they conjure up an image of modern day flashing lights, computer controlled stepper motor gambling machines. But I use the word Fruit Machine simply because it was not all mechanical, it had a mix of a mechanical reel bundle and the rest was basic electronics. However, not computer controlled, remember I'm taking about 1978 or 79 here and the machine was made in 1966. It was the Bell Fruit floor standing model similar to that pictured.
It was a huge floor standing model, not tall like they are today, just chest height, but wide. You can image the first time I got this beast home and I opened up the back in anticipation of wonderful gadgetry, only to be confronted with an almost empty box. Don't get me wrong, it was all there and working, it was that here was a huge cabinet with the bear minimum of components inside. In fact I could have probably squeezed myself inside too!
Unfortunately, back in those days digital cameras were non existent so taking a photo was a major effort, either use our Polaroid Instant, but this never had any of the special film inside as even back then it was expensive, some of you may remember these, you took a picture, pulled a tab on the side of the camera body and a long photo strip appeared. You then shoved it under your armpit for a few seconds and then you peeled off the photo from the special chemical backed paper. As I describe this procedure it's almost laughable compared to todays technology.
The other option was a regular automatic Kodak camera that had a film inside that could take 24 or 36 snaps (now that's a word you don't hear today when taking photos, snap!), then you have to send away for them to be developed, possibly at TruePrint! Also unless you had the luxury of a flash cube attachment you had to take the darn picture in bright daylight or it came out too dark.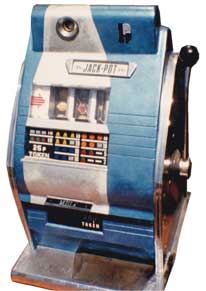 Anyhow, I've digressed from the story. What I'm trying to say, I don't have a photo of the first machine but after trawling the internet for a few hours I came across a picture of an similar machine to my first ever slot. As you can see the thing didn't even have a handle on the side, but a rocker lever on the front. No nudges or re-spins, it was just a plain and simple, drop coin, reels spin and they stop. It had a simple solenoid payout system and played on 5p coins.
Although I was now the owner of a fruit machine, it was not mechanical throughout. That's what I really wanted and have always had the fascination with, non electric. So the hunt was on for another machine. I sold the floor standing monster and checked out the pages of Exchange & Mart, always a good resource for anything you wanted back then (I guess the "eBay" of it's day, but not an auction!). Finally I picked up the Mills as seen in the actual photo of the machine, although it wasn't from Exchange & mart but a place in North London, called Star Warehouse, which to me was the final resting place for all gaming machines, and for me, it was like a kid in a candy store. Unfortunately, being wet behind the ears, I've no idea if the Mills was original, if it was a Sega with a Mills logo stuck on, it had no escalator (back then I didn't even know what an escalator was), it may not even of had the proper mechanism. But I didn't care, I loved the mechanical masterpiece and over a couple of months I took it apart so every nut, bolt, washer and spring was stripped. I rebuilt and pro ceded to strip that machine another few times and rebuild it, and along the way I studied every moving part and how the whole mechanism worked. And that was my learning curve.
Summary of our website and service:
One Arm Bandits, Slot Machines, Vending Machines, Mechanical Slots, Restoration of Mills, Jennings, Caille, Sega, Watling, Pace, Buckley, Ballys, Bryans and Allwins.
We buy, sell, repair and service the following brands: Golden Nugget, Buckley Bones, Jennings Standard Chief Bell, Jennings Buckaroo, Mills Diamond BellCherry Front, Watling Rol-A-Top, Rol-A-Top Bird of Paradise, Checkerboard, Mills Silent Golden Bell, Mills Bonus Bell, Horse Head, Mills Liberty Bell, Jennings Little Duke, Mills Bursting Cherry, Mills Hi Top, Mills Futurity, Mills Black Cherry and most other machines from the years of 1910 through to 1980. Pace Kitty, Pace Comet, Vintage slot machines, One arm bandits, 1 armed bandit, mechanical slots. Vegas slots, Slot history, Allwins.