Repairs and Restoration of Slot Machines, Allwins or Mechanical Calculators
Slot Machine Depot pride themselves on the Repairs and full Restoration of anything mechanical, whether it's a One Arm Bandit, Slot Machine, Vending Machine, Pinball, Allwin, Jukebox and most other gadgets. For details of our Mechanical Calculator repair service Click Here.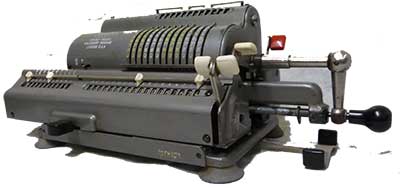 Free Help and Advice
We can advise you before you bid or buy a slot machine so you can make an informed decision about such a purchase once you know the value and the costs involved in repair or restoration.
We provide basic restoration of mechanics, strip, clean and rebuild, or just the cabinet restored, either polished, cleaned or total strip and resprayed. We can provide a full restoration, including cabinet refurb, respray, re-chrome, repair, serviced, and complete overhaul of the internal mechanics. Contact us now for more information.
Remember the highest cost to any restoration will be the labour. Replacing parts are simple, but having rust removed from intricate areas involves sanding by hand which can take hours. But don't be put off as we can accomadate most requests and budgets.
Our work is second to none, resprayed in a dust free environment, oven baked to harden the paint, chroming includes prep and after care to ensure it stays shiny and does not flake over time. Special restorations are possible, such as hand made cabinets out of Oak or Mahogony, all metalwork undertaken to create missing parts from Slots or Allwins, and a full metal casting service.. we can re-make most parts.
Initially, contact through email to discuss requirements and a fixed quote... Once we quote we never change it, so no nasty shocks when the restoration is completed!
How Much Does it All Cost?
One question we are asked regularly is how much will a restoration cost. It's impossible to provide a price without viewing the machine in question. Send us a photo and details of what you want doing.
Around 70% of the price of a restoration is for the sheer amount of hours spent cleaning, sanding and stripping the parts. A messy and labourious job!
Full Terms & Conditions of any work undertaken can be read here.
---
Just Need a Service or Simple Repair?
Do you own a mechanical Slot Machine or Allwin?
Is it looking rusty, sluggish or dirty?
Does not accept coins, payouts not working or reels not spinning?
If the above sounds like your machine then maybe the alternative to a full restoration is a full service or a dedicated repair. Here at the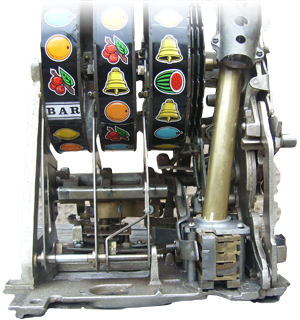 Slot Machine Depot we have repaired and serviced hundreds of slot machines, one arm bandits, mechanical vending machines and pinball tables over the years.
We have many parts for most makes in stock all the time, so could repair the same day! Our servicing is second to none, with a full degrease, clean, lubrication, timing and mechanical adjustments made. We also change broken cotter pins, replace loose spings and all damaged or worn washers.
If you just need a repair, for example your machine may not be paying out correct amounts, or reels refusing to spin then we can fix it here at our workshop, as seen below, or we can come to you and repair on site (minor repairs only).
---
Examples of Work
| | |
| --- | --- |
| BEFORE | AFTER |
| | |
| | |